.
You can gamble with higher multiples, or follow multiple traders with lower multiples to diversify.
.
In this article, I will discuss two points
The concept of increasing multiples for gambling management
and the concept of following multiple traders to build a portfolio for safe asset management
.

.

◆The idea of increasing the multiplier for gambling operations
One way to enjoy bitcopying is to increase the multiplier.
.
I've only been operating at the recommended multiplier, but I've had an acquaintance Official Virtubots.
Official Virtubots is a proven trader with a monthly interest rate of over 30%.
.
That's 3.5x, which is quite a bit of profit for a month.
Official Virtubots trades as a bot, but the timing of his moves is discretionary.
.
It may take a loss cut, but even with that, this is going to be an article! So I've been trying it out since yesterday.
.

※The risk is quite high, so please decide carefully on the multiplier. If you can, use the recommended multiplier! >> The manager was timed for a ramp-up and disappeared after two weeks. .

.
I created an account at Deribit, deposited only 0.01 BTC and received the recommended multiple of We started the operation at 3.5x.
It's only one day, but we increased by 0.0001 BTC, so we can say that we gained 1% of our total assets in one day.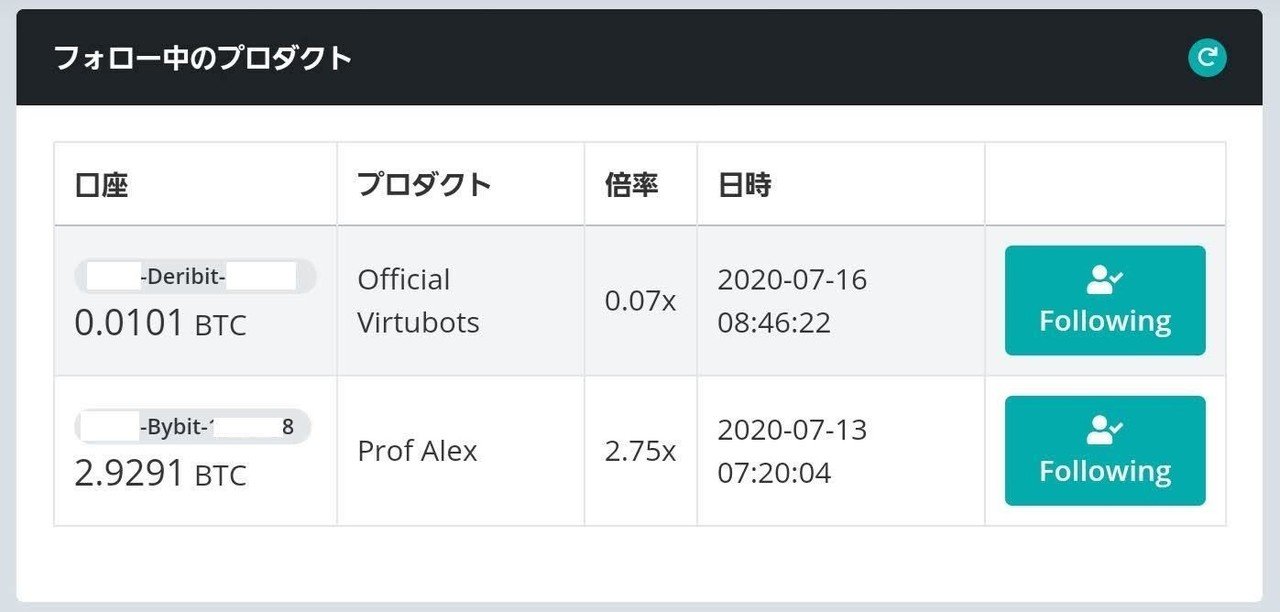 .
Concept on Magnification
Basically, we think about how many times the recommended magnification is multiplied based on the recommended magnification.
.

.
Official Virtubots' recommended multiplier of 0.02x when you have 0.01 BTC was shown as 0.02x.
If you multiply this 0.02 by 3.5, it means the operation of 3.5 times the recommended multiple.
.

.
I operate at 0.07x.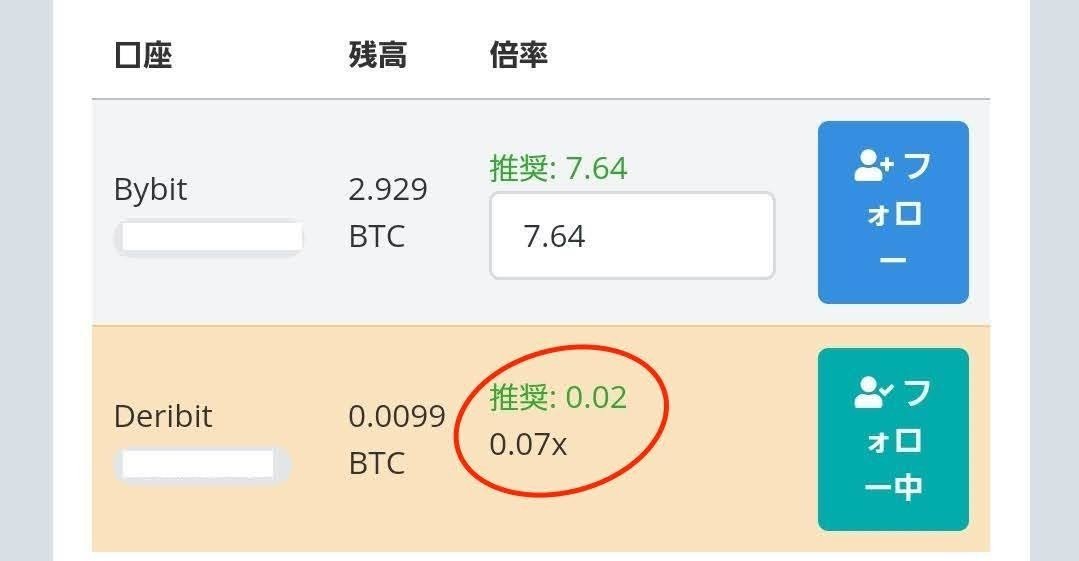 .
※Some people heard about the 3x magnification and entered "3" in the magnification field, but please be careful because it is a very dangerous mistake.
.
If you increase the multiplier to 3.5 times, your profit will be 3.5 times, but your loss will also be 3.5 times, and Risk of loss-cutting will be so high that it's not possible to say how many times it is, so be careful!
When you increase the multiplier, it becomes more of a speculation than an investment and more of a gamble.
If you do this, please try an amount of money that will make you smile when it's gone.
.
Segregation of Risk
If you want to operate with a higher multiplier and at the same time operate with the recommended multiplier, it is safer to separate accounts to separate the risk. Deribit.
.
Learn how to create a Deribit account
.
◆The concept of following multiple traders and building a portfolio for safe asset management
.

.
There are times when you want to follow a few traders at the same time.
We'll let you know how to follow them within the recommended multiplier in such cases.
.


The recommended multiple is calculated for all the assets in your account.
Thus, when you follow one person and try to follow another, the calculation will be done for all the assets in your account and you will have the risk of investing at twice the recommended multiple.
.
You can follow any percentage if you follow by multiplying the recommended multiple by the percentage of assets you want to follow.
>For example, if you want to follow two people, you can follow half of them if you follow them each at
50%.
In that case, you can follow half of them by multiplying the recommended ratio by 0.5 (50%).
If you want to follow 4 people, multiply it by 0.25 or so and adjust it by the number of people you want to follow.
.
.
When you unfollow to change the multiplier
.
When you check each other's positions, please remember to settle the account manually.
If you have confirmed that you have a position, please remember to settle manually. .
If you unfollow someone once, they will not be followed again.
.
.
◆Addendum
.
My account, which was following Official Virtubots with a higher multiplier, was loss cut due to the BTC spike.
.
Up until then, it was increasing at a rate of about 1-3% daily interest.
.
When the market price is in a range, we may raise the multiple and follow Official Virtubots, but when the price is moving rapidly, we decided to choose Prof Alex at our recommended multiple.
.
Some traders have traded more than the recommended multiple and have lost money for people they were following at 1X, but have lost money for those they are following.
.
Follow up your trader selection and multiples with careful consideration of risk as well.